The Ambrosian Rite
Archdiocese of Milan, Italy
Sunday Vespers
(Chants from the 1939 VESPERALE)
---
Please note:
these are the recurring office chants. Proper chants are inserted where indicated on each page.

minor changes were made throughout the years (e.g., by the 1957 edition of the Breviarium Ambrosianum, the silent "Pater" and "Ave" at the beginning were eliminated, so that Vespers began with "Dominus Vobiscum").

these pages are scans of photocopies of the Vesperale -- the original edition was copyrighted by Desclee & Cie. in 1939.

some of these chants are in use in the current Ambrosian Liturgy of the Hours - a critical revision of some of the chants have been made in cooperation with the Abbey of Solesmes.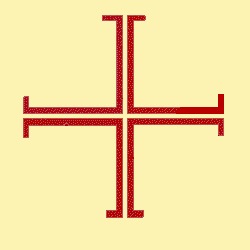 click (or double click)
each thumbnail to view the page in full size.
---
(This page was prepared with the assistance of Francesco Demasi of the library of the Archdiocesan Seminary of Milan.)

---
"Short Breviaries"

(1957)

Today's Office

(1957)

Psalter Schema

(Background)

(1957

Psalter Schema

---

(1957)

Resources

and Links

---

(1957)

---
Updated November 5, 2000
Added October 17, 2000