The Little Office of Our Lady of Mt. Carmel appeared in 1975 and has had two reprints, in 1985 and the latest, in 1991. It was prepared during 1973-1974 in the English Province of the Calced Carmelites under the supervision of Fr. Hugh Clarke, O. Carm. The original printing was done by the Carmelite Press in Faversham, Kent.
Originally intended for the Order's tertiaries (lay Third Order members), the book was and is being used by others, as well, some of them not directly associated with the Order, at all.
The psalms, readings and prayers are primarily from the offices of the Blessed Virgin Mary in the current Liturgy of the Hours; the rest of the material, "Carmelite" in its nature, was added from Carmelite tradition (e.g., the praying or singing of the Salve Regina -or Regina Caeli, during Eastertide- after each of the hours). Carmelite feasts from the then liturgical calendar of the Order were included, as well (several new feasts have since been added). There is also some additional devotional material.
There are similarities to the Little
Office of pre-Vatican II times (see the Matins psalms, for example), but the differences (alternative invitatory, readings, prayers, intercessions, a choice of Daytime (Midday) I or Daytime II, etc.) provide for a satisfying variety.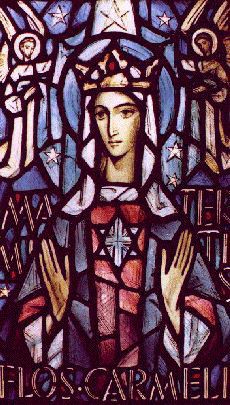 This image of Our Lady of Mt. Carmel, with the words "Flos Carmeli" (a chant familiar to most Carmelites), is printed at the beginning of the Little Office of Our Lady of Mt. Carmel. It is from a stained glass window created by Moira Forsyth and located in the Cloister chapel of the 'Friars' in Ayelsford, Kent.